Spa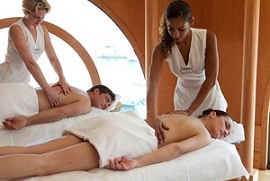 We offer a specially selected range of massages performed by trained, licensed massage therapists and body treatments. If you are staying at Al Bihar Hotel, pampering yourself will never be far away. From hair treatments, brushing to body wraps, waxing, and manicures and pedicures, you will feel rejuvenated and refreshed, from top to bottom. At Al Bihar Hotel, we want to make sure that you are revitalized from the spa experience you get during your stay. Highly-trained therapists with specific areas of expertise can be booked for any of the below:
Aromatherapy

Facial & Body Treatment

Body Scrub & Wraps

Relaxing Massage

Anti-stress Cure

Detox Treatments

Facial Treatments

Hand Beauty Rituals

Foot Beauty Rituals

Thai massage

Swedish massages

Reflexology
You can opt for a signature treatment provided as an in-room massage in the VIP couple's suite with its own private Jacuzzi and shower facilities where you will be able to relax before or after treatments.
For more information or to book appointments, please contact us at (00) 961 9 855 858.